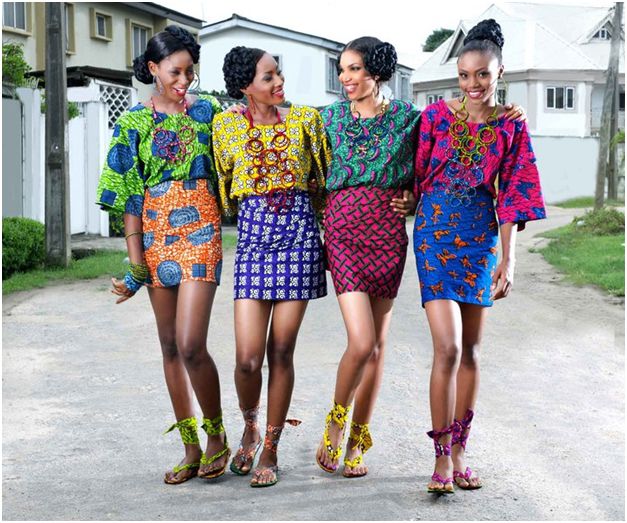 By: Anjali Patel
Traditional clothing acts as pieces of symbolism in Nigerian culture. Oftentimes, they mark the religion one follows, the occupation one pursues, and the specific holiday one celebrates. While these representations are prevalent in Nigeria, the nation's growing economy and evolving fashion styles are altering yet preserving the ways individuals dress.
According to a report from 2013 by
McKinsey&Company
, the implementation of various retail businesses provided and still provide a method to help Nigeria's economy prosper. It is important to note that Nigeria's primary means of maintaining its economic well-being relies on oil.
The African Development Bank Group
reports that due to the oil prices decreasing in 2015, Nigeria could no longer depend on oil to bring in the amount of money it did in the past. Since Nigeria's economy was negatively affected by this price change, the country must establish other industries that can offer jobs to the unemployed. Fashion is one of the major industries that is thriving and has the potential to grow even larger on a national, international, and global level.
One fashion designer based in Nigeria,
Deola Sagoe
, takes an artistic approach to the merchandise she sells at House of Deola. Her website offers two different sets of clothing, but each collection exhibits an underlying theme that bridges all of the clothing together. The first set, Series1, offers long dresses with layers of thick and intricate design cut outs. The palette of this collection includes elegant tones of pink, beige, and blue. The second collection, Series2, provides a wider variety of clothing as pants, shorter dresses, and skirts are also included. This collection also comprises of a brighter and bolder color palette that includes pastels, hot pink, orange, and turquoise. Similar to an assemblage of artwork, Sagoe presents the clothing she sells in a sophisticated and polished manner.
Another Nigerian fashion designer,
Lisa Folawiyo
, utilizes contrasting color schemes to create eye catching, well-constructed outfits. By piecing patterned tops with patterned bottoms, the artist relies on color to maintain a sense of balance through her clothing. The outfits' composition reflects qualities of the confident, energetic, and outside of the box thinker.
While both of these designers have taken a modern spin within the realm of fashion, they still incorporate elements of traditional Nigerian prints and patterns into their clothing. This feature encourages the ordinary individual to appreciate a bit of history and heritage. During this era of globalization where the cultural exchange process is happening extremely quickly, preserving aspects of tradition can be difficult. However, forming a balance between the past and present can make one's art stand out.
Although only two fashion designers were discussed, Nigeria is booming with aspiring designers who hope to grow their companies. This spirit of entrepreneurship in the fashion industry can help Nigeria's companies earn international attention. International attention will not only increase sales and lead to a higher national GDP, it can also increase jobs in the tourism and hospitality industries. Studying abroad in or visiting Nigeria may become a goal of fashion students and enthusiasts from all over the globe. An increase in tourism will eventually lead to the development of the tourism industry as more hotels, restaurants, and attractions will be built to accommodate these visitors and provide more jobs for Nigerian citizens.