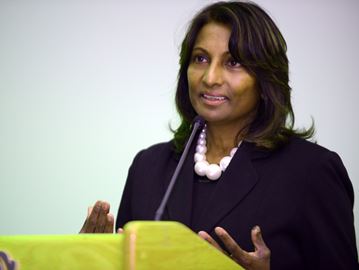 Recently, I had been fortunate enough to sit down with the lovely MPP (Member of Provincial Parliament) of Milton, Ms. Indira Naidoo-Harris. We had a lovely chat, where we discussed various topics, below.
Where were you born and raised?
I was born in Johannesburg, South Africa. I lived there until I was nine years old, until our family moved to Canada. Our family first lived in Northen Alberta, and then we eventually moved to Calgary, Alberta.
2

What were your passion(s) in high school?
I always loved English, Language Arts, Social Studies, and taking pre-law classes. The conversation at home, was always about the news, and our daily talks at the family dining table, led me to become highly interested in current events and politics and activist movements, particularly where people were facing challenges in different countries-human rights issues.
3

How did your experiences throughout your teenage years influence what you wanted to do when you grew up?
There was no T.V. when I lived in Africa. No social media, and no cell phones. The country was so restricted, that it was democratic and oppressive. My experiences led me to become motivated in the issues of justice and equality. Politics was something I was always interested in, but I never thought about specifically entering the political spectrum.
4
How can we work together to equip young Canadians with the right skill sets for the economy of the future? Are there any other experiential education/learning opportunities that the Government could implement in schools?
We must ensure that young people do care about politics by making sure that they are
interesting
in voting and exercising their
vote,
while becoming politically involved. I think the Government could speak at schools, specifically civic engagement classes. We have to give young people a stake in our community. If we don't history is guaranteed to repeat itself, and we cannot live in that closed-off bubble.
5

How can we spread a message of self-love to young women and girls around the world, when there already so many pre-existing notions and various warped ideals on body and self-image?
We have to focus less on clothes and makeup and praise young girls and women for so much more than just their looks. We have to give them worth for what they are ensured for, by instilling a sense of confidence into body image.
How can we encourage more youth, specifically young girls and women, to become more active in politics and

to be leaders in this sector

?
We must encourage them to become more involved, to join clubs or groups at school. We must ensure involvement as well, through volunteering and
assisting
people in our community, making sure that the people get the assistance thy need. Let's get the youth to engage and be part of the solution. Engage them in a broader society standpoint. Get involved in local political associations!
Thank you, Ms. Naidoo-Harris for taking the time to answer my questions. With your advice, I'm sure we can continue to better our community, and beyond!